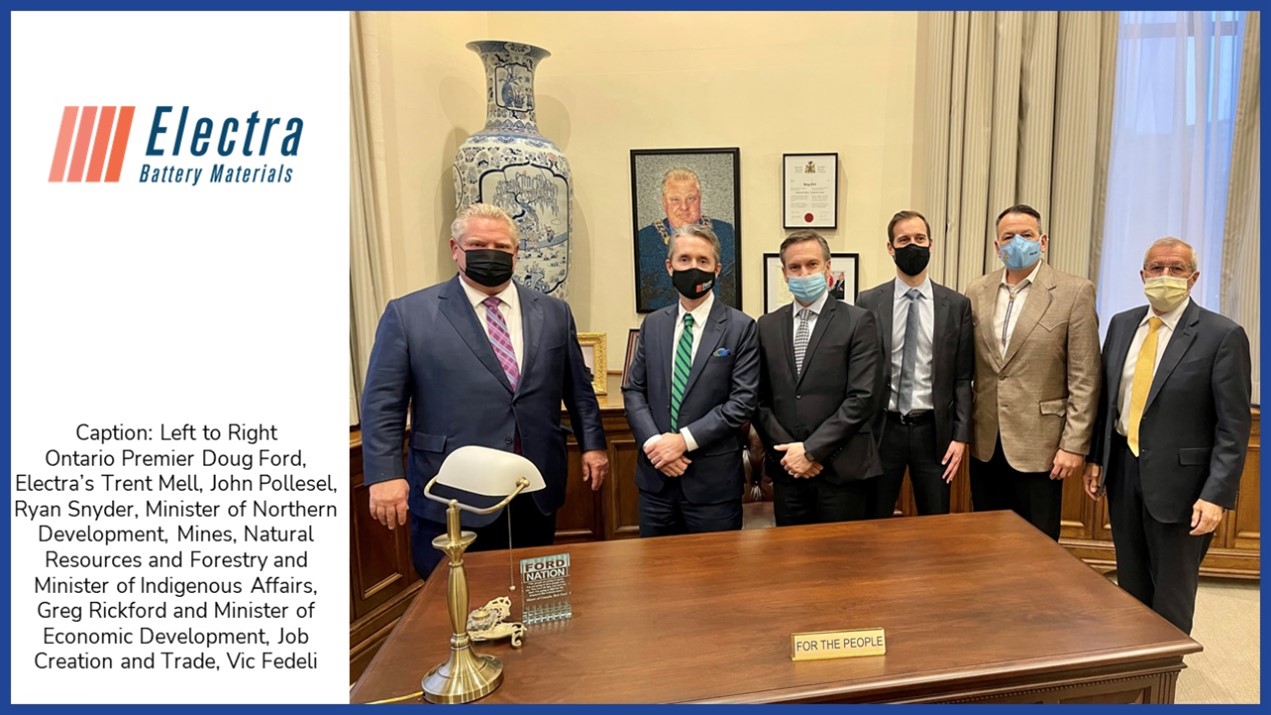 Dear Stakeholders,
Yesterday we had the pleasure of meeting with Doug Ford, the Premier of Ontario, as well as Vic Fedeli (Minister of Economic Development, Job Creation and Trade), and Greg Rickford (Minister of Northern Development, Mines, Natural Resources and Forestry and Minister of Indigenous Affairs).
We discussed our plans to develop Electra's Battery Materials Park, making Ontario the first location in North America to bring together battery grade nickel production, cobalt production, battery recycling and precursor manufacturing in one location. There is tremendous enthusiasm from the Government towards building Made-in-Ontario supply chains and we look forward to collaborating with Ontario on future initiatives towards this shared vision.
The Government of Ontario has been a tremendous partner for Electra and were early financial backers of our Refinery project. We are grateful to the Premier and his team for their ongoing support for the development of North America's only permitted cobalt refinery which will have the lowest carbon footprint of any refinery anywhere in the world.
Electra is building North America's only fully integrated, localized and environmentally sustainable battery materials park. Leveraging the company's own mining assets and business partners, the Electra Battery Materials Park will host cobalt and nickel sulfate production plants, a large-scale lithium-ion battery recycling facility, and battery precursor materials production, which will serve both North American and global customers. Electra Battery Materials is an integral part of the North American battery supply chain, providing low-carbon, sustainable and traceable raw materials for the region's fast growing electric vehicle industry.
Trent Mell
Chief Executive Officer